Extraction —
A trans-scalar inquiry
2023
Editors: Golnar Abbasi, Kris Dittel
This publication is the first issue of Spatial Folders, a thematic periodical that is produced by the faculty of Master Interior Architecture: Research and Design (MIARD) program at Piet Zwart Institute, Willem de Kooning Academy in Rotterdam. It is composed of a selection of graduation theses alongside contributions by guest authors that focus on urgent socio-cultural, socio-political, and ecological issues that affect the (built) environment and its representation regimes.
This first issue focuses on extraction and extractivism that characterises the power structures that make our worlds and their historicities. Across time extraction processes have been making and changing the spaces of the world through displacement of bodies and matter, from within and across the earth. At the same time, these processes establish epistemologies and forms of representation that articulate extraction as natural or inevitable within the frameworks of anthropocentrism, capitalism, colonialism, racism, or hetero-reproductivism.
This collection of texts approaches the question of extraction from a variety of spatial perspectives. The contributions zoom in to specific sites, cases, and areas of interest while providing a critical analysis of various networks of power and influence across time and space. These works do not turn away from the material aspect of extraction but rather closely trace the spatial and material conditions and consequences of extraction in the case of oil, hormones, milk, wood, and water, among others.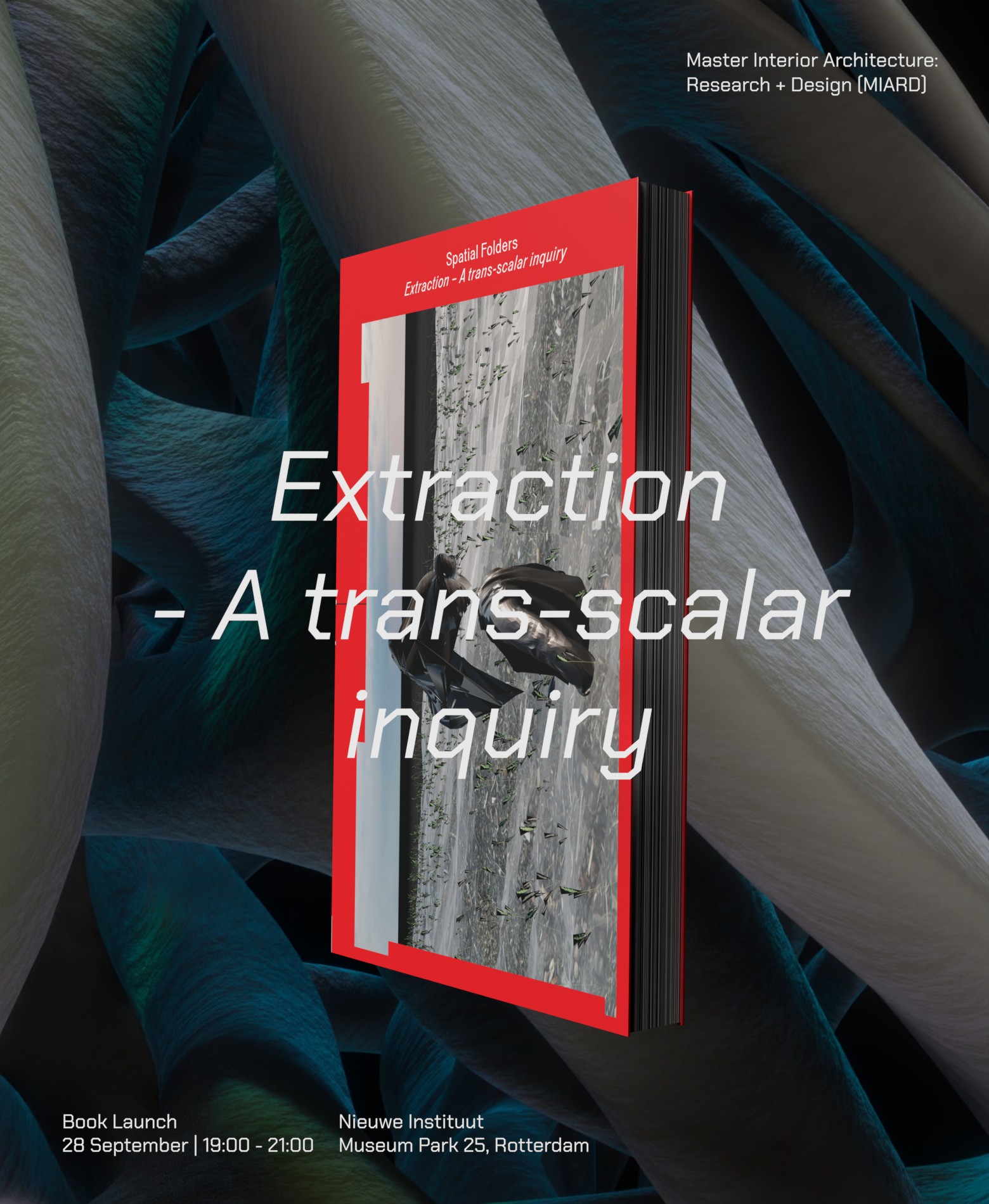 Contents
Foreword: Untangling Complexities. Re-thinking future practice and extractivism from an ethical perspective
Jane Rendell
Editorial: Extraction – A trans-scalar inquiry
Golnar Abbasi and Kris Dittel
Leaking, Billowing, Shame
Natasha Marie Llorens
The Hidden Shadows of the Belgian Colonial Past: Deconstructing the aesthetics and materials of Belgian colonisation
Elien Vermoortel
Post-Petrol Present: The emergence and decline of petro-dependent cultural spaces in Neusiedl an der Zaya
Agnes Tatzber
Forest Metamorphoses: Revealing the traces of the Ips typographus epidemic in Fiemme Valley
Shiila Infriccioli
The Unstable Ground
Eva Garibaldi
The Block
Dominique Willis
Reproductive Wilderness: Decolonising the womb from the anatomical and biocapitalistic regimes of architecture
Shonali Shetty
Afterword: The Newsstand
Alex Augusto Suárez
Colophon:
ISBN 978909036882
ISSN 2949-9585
Edited by Golnar Abbasi and Kris Dittel
Authors: Eva Garibaldi, Shiila Infriccioli, Natasha Marie Llorens, Jane Rendell, Shonali Shetty, Alex Augusto Suárez, Agnes Tatzber, Elien Vermoortel, Dominique Willis
Proofreader: Clementine Edwards
Design: Dongyoung Lee
Coordinator: Zoraïma Hupkes